Sherpa Fabric Sewing Guide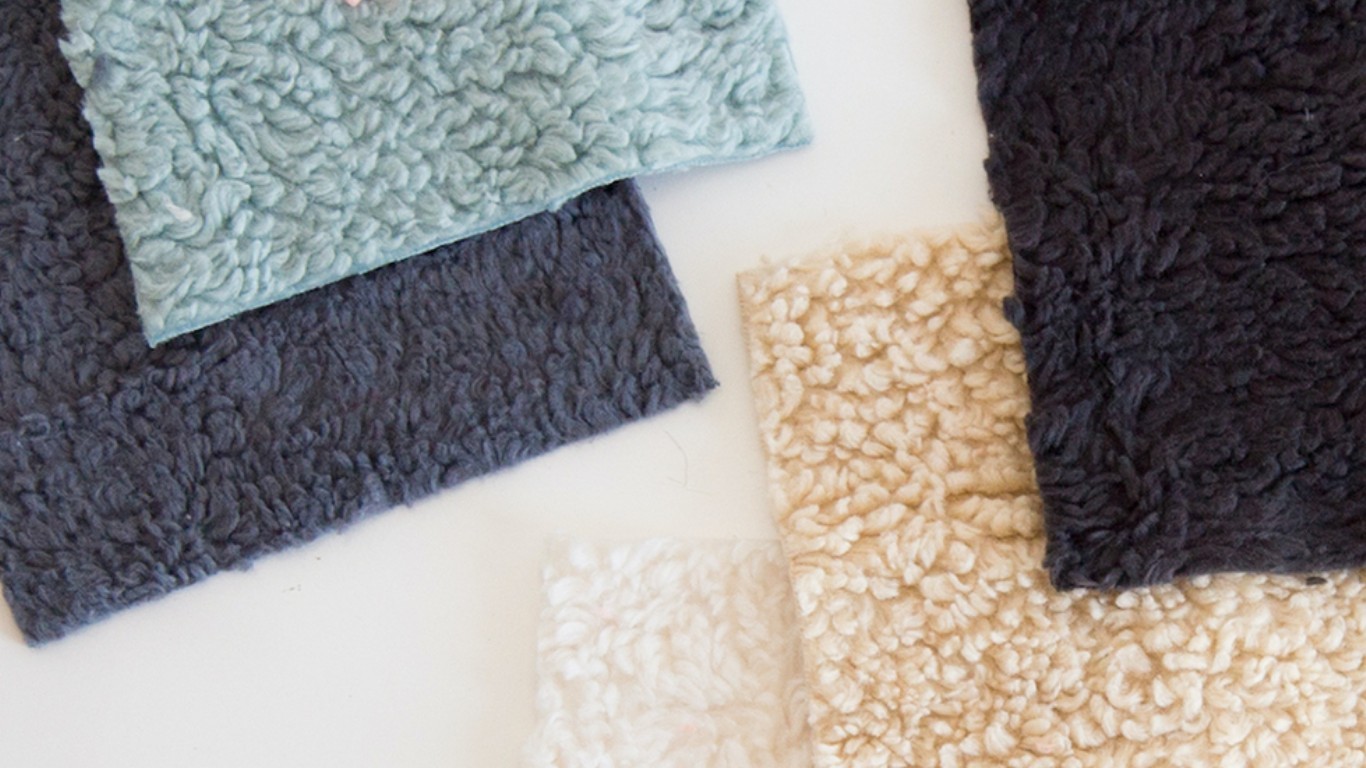 Sherpa wool has become a cold-weather classic, and for good reason. From blankets to insoles, jackets, and even sweatpants, this fabric will keep you warm, comfortable, and ready for those cold winter days. Dare I say it; you may even expect the cold temperatures that put you wearing this delightful soft-fitting fabric.
Sherpa is a heavyweight, fluffy knit with a cashmere-like fleece on one side and a smooth knit on the other. Usually made of cotton, polyester, or acrylic fibers (or a combination of the three), sometimes wool.
Sherpa fabric is also often referred to as faux wool because of its resemblance to sheep. It was designed to resemble shearling - the skin and fur of lambs - and was introduced as an eco-friendly and cheaper alternative to animal fur and wool.
So how does sherpa fabric achieve this unique curly texture without animal fibers? The twisted yarn is woven into a pile of fabric, which is then roughened and fluffed with a wire brush. The fibers in sherpa wool are crimped, most similar to wool, and best replicate the benefits wool can provide most notably lightweight insulation.
Garments made entirely of sherpa fabrics cannot completely block cold wind due to their fiber content and the holes created between the knit stitches when the fabric is made--but when paired with denim, flannel, cotton, or suede fabrics, it keeps you warm. shell.
Sewing tips for sherpa fabrics
Pre-wash your fabrics.

If your sherpa fleece is made from cotton or cotton blends, prewash your fabric. Cotton tends to shrink at high temperatures when washed and dried.
Avoid ironing.

Sherpa wool has a thick pile, and if it's a synthetic or synthetic blend, the heat of the iron can stain the fluffy pile and possibly even melt the fabric. If your pattern requires a fusible interface, please do not iron directly. Use a press cloth, then iron and steam the iron on a moderate setting.
Use walking foot.

Sherpa wool is a very thick knitted fabric, which means your standard machine foot may struggle to sew multiple layers of fabric. A walking foot will cause your machine to pull the fabric evenly across the feed dogs, making it easier to sew this thick, fluffy fabric.
Use sharp scissors.

Make sure the scissors are sharp before cutting the sherpa, and If the villus is too high, cut the monolayer. Unfortunately for rotary cutter enthusiasts, rotary cutters may not be accurate due to the unstable nature of the pile of pile fabrics.
Pay attention to the fabric fleece.

Cut the pattern piece with fluff in the same direction. If you're not familiar, a nap refers to how the fibers stand up on the surface of the fabric. These fibers should all be oriented in one direction--when you run your hand over the fleece, it will feel soft in one direction and look and feel different in the other. You need to lay out all the pattern pieces so they face the same direction when napping. This is called a one-way layout. If you omit the nap, you risk stitching the two pieces together that, while cut from the same fabric, look slightly different.
Use a jersey or ball needle.

Since sherpas are knitwear, jersey or ball needles and stretch stitches are used when sewing clothes.
Staystitch cross-grain cuts.

If you're making pullovers, vests, or any other fleece item with curved seams, make sure to sew your pattern pieces right after cutting. Sherpa has an elastic knit construction that stretches easily if you do it without reinforcement.
Consider using clips.

Pins are easy to hide in the fuzz of the fabric, and you don't want to accidentally sew or oversew a pin. Wonder Clips is a great solution to this problem, but you can also use binder clips as an alternative.
Finish any burrs.

Sherpa wool is known to shed a lot during the sewing process, so once your garment is finished, any unfinished seams will continue to shed. Make sure to finish all the burrs!
How to pick a sherpa project?
Sherpa is a comfortable and wonderful fabric to add to your artisan wardrobe. The two most important things to keep in mind when choosing a pattern is that sherpa fabric is a knitted fabric, and it is also very bulky.
Fit and contour:

You'll want to look for a half-fit pattern with a simple design. If you decide to use a sherpa as a liner, consider going 1-2 sizes up to account for the extra volume.
Shaping:

When working with bulky sherpa fabrics, less is more - try to aim for simple, straight lines. Darts and profiled seams will be especially difficult to sew. Also avoid patterns with folds, folds, or pleats.
Closure:

To prevent button fly and zipper edges from becoming unstable and wavy, use woven fusible seam strips around the edges, especially when using split zippers. This will prevent the edges from getting wavy as the sherpa fabric stretches over time. Another option is to make the button fly out of a different woven fabric, which will help stabilize the sherpa and keep the pile more manageable.
Remember to lower the heat of your iron before using fusible or you will end up with burnt and melted wool!
The above describes how to sew sherpa fabrics, if you plan to buy sherpa fabrics, please
contact us
.
QIKUN is a leading
custom fleece fabric manufacturer
in China. We are always proud of our quality, if there is any quality problem with our products, we will provide product replacement until you are satisfied to protect the rights and interests of our customers.