Types of Jersey Knit Fabrics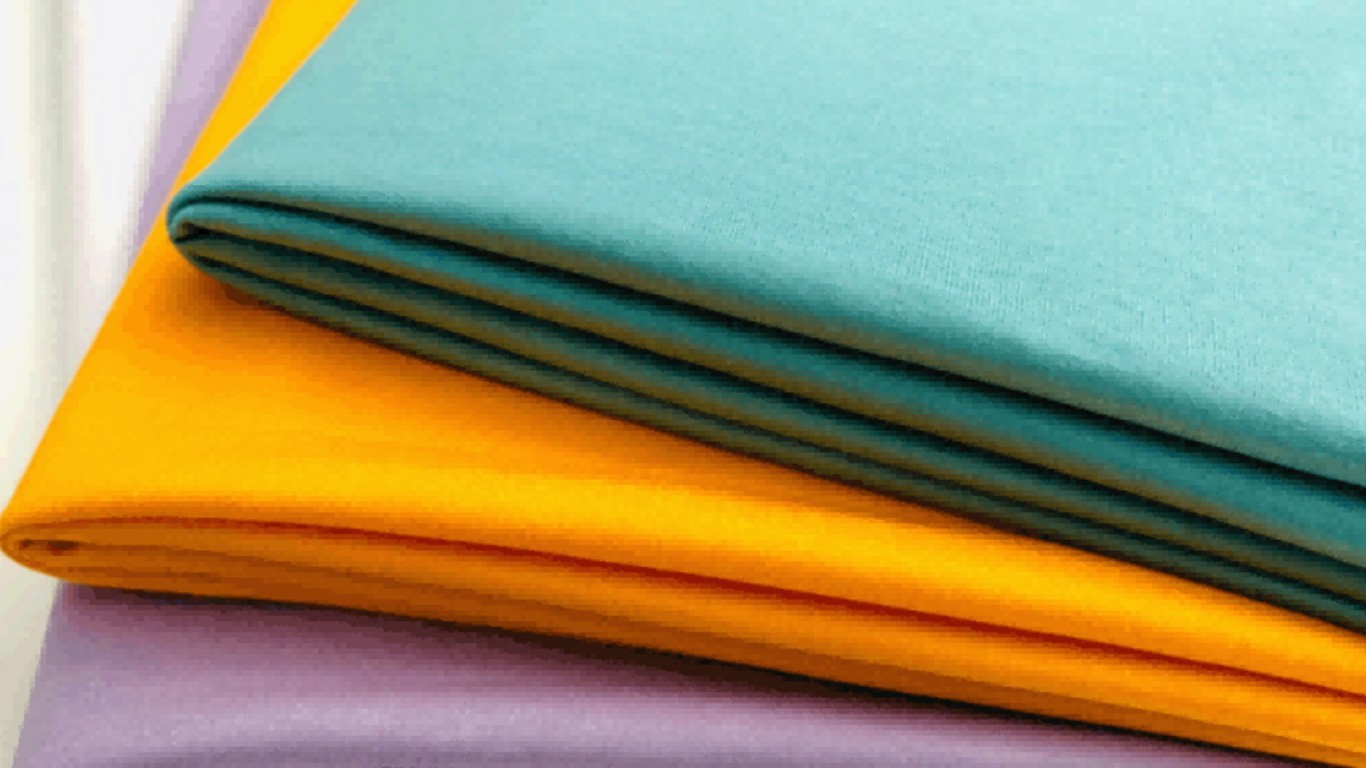 A variety of fibers can be used to make
spun jersey fabrics
. This makes them versatile and practical as they can be worn on different occasions. Next, let's take a look at the types and uses of jersey knit fabrics.
Cotton jersey knit fabric
Cotton jersey knit fabrics are made from cotton fibers or cotton blends, They are usually very soft to the touch, but can also be a bit heavy. These fabrics are not suitable for curtains, but they are stable and have a stronger structure, so they are comfortable to wear. Cotton knitwear for children is often used to make children's clothing and t-shirts because they are breathable. For adults, cotton knits are often used for pants, dresses, and shift dresses due to their strong construction.
Those who prefer to wear stretchy clothing will opt for fabrics that combine cotton with lycra or spandex. These knitted fabrics have greater elasticity and quickly return to their original shape. They are mostly used to make leggings, tights, and even socks.
Silk jersey fabric
Silk jersey fabric is very soft to the touch and has a luxurious sheen. Unlike cotton knitwear, which is naturally opaque, silk knitwear is usually translucent. Silk knitted fabric is great for curtains because it can smooth movement. It is often used to make dresses, shirts, underwear, and wraps. Silk knitwear was also used to create pleated designs.
Silk fabrics regulate the body's temperature. That means they'll keep you warm in cold weather and cool in hot weather. If you need more stretch, you can buy a silk knit sweater that combines silk with lycra or spandex. Silk knitted fabrics are generally more expensive than other knitted fabrics, but they are worth the money.
Jersey wool fabric
Wool sweaters are medium-weight or heavyweight, which makes them perfect for fall and winter. They are soft and warm and can be used in a variety of cold-weather garments. Natural wool is quite expensive; therefore, people often combine wool blends to make it more versatile.
Wool knitted fabrics are used to make cardigans, sweaters, coats, ponchos, jackets, and dresses. Wool blended with lycra and spandex has more stretch and is more suitable for close-fitting clothing.
Rayon or viscose knitted fabric
Rayon or viscose knitted fabric is very smooth to the touch and there is excellent pendant sex, so they can be used to create body-hugging dresses. The combination of rayon with spandex and lycra adds more elasticity and resilience to the fabric, making it more versatile and functional.
Rayon knitted sweaters are great perfectly for summer dresses, tops, shirts, skirts, and casual wear. Double rayon knit knits are heavyweight and less stretchy. They are often used to make jackets and pants because they don't wrinkle.
Which jersey fabric should I choose?
Think about what you need to do with flat knit fabric. If you're making a dress or top, choose a lightweight jersey fabric like silk or rayon. Wool is heavier and better suited for coats and thermal coats. If you need some stretch, go for something with lycra or spandex. Most natural fibers don't stretch much.
Jerseys come in a variety of dyes and patterns, so you can always find something to meet the options in your design. You can choose from solid colors or floral prints, paisley prints, polka dots, and animal prints. Make sure to wash or dry clean the fabric before sewing, as it tends to shrink.
The right knitted knitted fabric is here. Explore the different options and choose the one that suits your design. If you are still not sure how to choose the right fabric for you, you can
contact us
to help you recommend the most suitable jersey fabric for you.
QIKUN is the leading
knitted fabrics manufacturer
with more than 12 years of experience. Strict QC control and 100% trade guarantee for each order. Small MOQ (minimum order quantity) and customization available. We are always proud of our quality, if there is any quality problem with our products, we will provide product replacement until you are satisfied to protect the rights and interests of our customers.