When the weather outside is scary, knitting with sweaters is just what we need! Sweater knits are the perfect cold-weather protagonist and are available in many different types for many different projects.
In this post, we will be specifically talking about hacci sweater knitting. Hacci is one of the most common types of knitted sweaters. Here, we'll discuss the different types of hacci, their uses, and care to help you choose the right
hacci fabric
for you!
What is Hacci?
Hacci is a super stretchy sweater knit with a semi-closed weave. There are several types of hacci fabrics, and we'll cover some of the more common types, which you'll see in more detail below. Many varieties are very similar, differing only slightly in weave and weight. Hacci fabrics can be used to create countless garments and come in a variety of weights, from very light to heavy. You don't need to use any special techniques or tools to sew the hacci, you can use it like any other knitted fabric.
Various hacci
Standard hacci - Super soft, with a semi-closed weave and 2-way stretch, the hacci is perfect for many projects. Jogging pants, sweaters, cardigans, scarves, dresses and sweatpants - all of which work perfectly with hacci fabrics.
Brushed hacci - Brushed hacci is brushed on one side for a fuzzy soft texture. The other side is smooth. Either side can be used facing out, although usually the brushed side is the "right side". Generally, brushed hacci has a higher percentage of a stretch than standard haccis.
Super brushed hacci – Very similar to brushed hacci, but softer! Great for loose-fitting sweaters and cardigans.
Tricolor hacci - Tricolor hacci is a smooth surfaced hacci with variegated threads in the knit that give it a beautiful color change throughout the fabric. It's perfect for tops, sweaters, joggers, and cardigans.
Two-color hacci - This fabric is very similar to the three-color hacci. The difference is that a two-color hacci uses only two colors of thread throughout the fabric knit, while a three-color hacci uses three colors.
Melange hacci - Melange hacci is also a smooth surface hacci, but this time with a slight heather look.
Ana hacci - Ana hacci is a smooth knitted sweater that is lighter than a regular hacci and is perfect for pairing with super soft t-shirts, cardigans or scarves!
Hacci care
We recommend that you wash gently/cold water with other soft clothing to prevent chafing and pilling. And it can be tumble dried on low or no heat, or simply lay flat to dry for longer fabric life and aesthetics.
The above introduces some common types of hacci fabrics and their uses in detail. If you want to buy hacci fabrics, please
contact us
. QIKUN is a professional
custom fleece fabric manufacturer
. We are always proud of our quality, if there is any quality problem with our products, we will provide product replacement until you are satisfied to protect the rights and interests of our customers.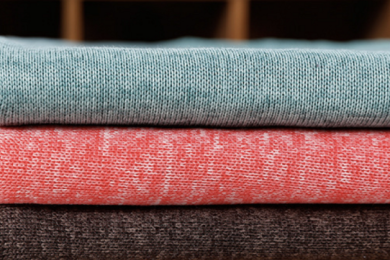 We offer hacci knit fabrics wholesale including polyester hacci fabric,sweater fleece fabric,cationic fleece fabric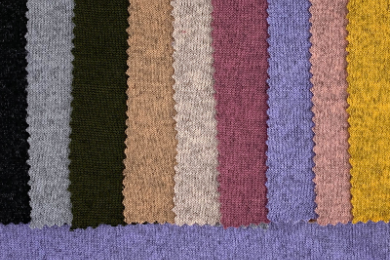 We offer hacci knit fabrics wholesale including polyester hacci fabric,sweater fleece fabric,cationic fleece fabric